The X-14 is Samick/Hondo's standard humbucker, with similar specs to the DiMarzio K-10. It was introduced around 1983 and used in almost all Hondos with humbuckers. They were offered in several different styles; a standard humbucker style, a flat polepiece K-10 style, and a Super II style (with or without plastic cover). Because of this, they are often mistaken for DiMarzios (so make sure you know what you're buying).
They typically come in around 7-8K Ohms D.C. Resistance and use a ceramic magnet. On the underside, you'll find a blank Brass baseplate with a Reddish-Brown sealant attaching the cover.
The pole spacing is slightly narrower than a standard humbucker, in order to accommodate the
Wide Tune-O-Matic
bridge's narrower post spacing. However, the difference is negligible, so it can be replaced by a standard humbucker or used with a standard bridge without issue.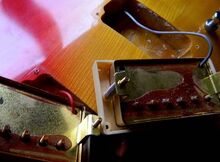 X-14s that came from the factory with a chrome cover use thin, translucent white bobbins and are not wax-potted.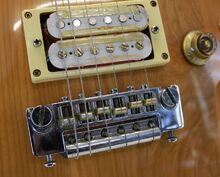 X-13
Single coil version of the X-14.
X-15
Split bass pickup version of the X-14.
X-16
8-pole, straight bar bass pickup version of the X-14.
X-44
The X-44 is a higher output version of the X-14.
Community content is available under
CC-BY-SA
unless otherwise noted.