Samick has always sold guitars under it's own name, but focused mostly on its Hondo joint-venture and contracts for other brands, until the late 1980s, when they re-focused on building their own brand name's portfolio.
(For more, see: Samick History)
Note: ALL Samick guitars are either made in Korea or Indonesia (with the exception of one acoustic model handmade by Japanese craftsman S. Yairi). All models on this site are made in Korea unless otherwise specified.
Series
Signature Series (Designed by Greg Bennett)
Korean Models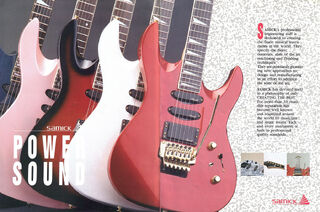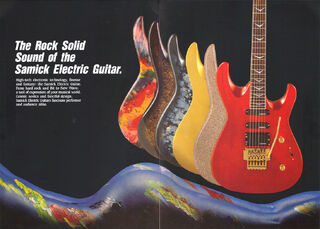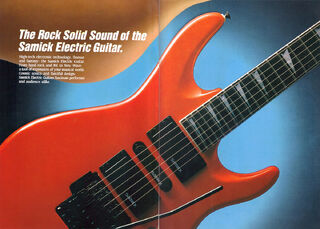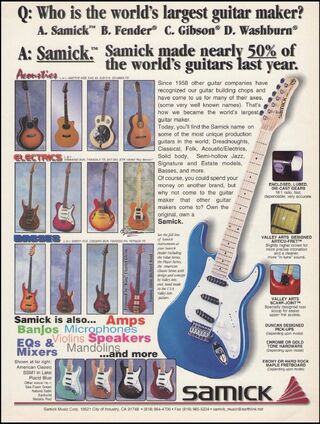 Electrics:
AG
BS (Blues Saraceno "Radio Ten")
BTB (Violin style bass)
CB
DB
DC
EA
EB
EB-122 (Teisco style bass)
EG-202 (Teisco style)
EG-302 (Teisco style)
EG-766 3/4 (V style)
EG-767 (V style)
EG-789
EG-901 (Teisco style)
EG-1002 (SG style)
EG-1502 (Mustang style)
EG-1702 (LP style)
EG-1737 (LP style)
EG-1748 (LP style)
EG-1757 (Tele style)
EG-5000T (Strat style)
GB
H
HFB (ES-175 style bass)
I-BSA (Blues Saraceno "TV Twenty")
J (Concorde style)
JA
JB (Jazz Bass style)
JM
JT
KMP
LB
M
MF
MFV (Mini V style)
MJ
MLP (Mini LP style)
MPB (Mini P-bass style)
MST (Mini Strat style)
NXB
Play Master (Explorer style)
R
SAKB
SB
SBA
SCBM
SCM
SDB
SFR
SHB
SK (Saker)
SKTL (Saker Tele style)
SP (PRS style)
ST
SV
TA
XB
Acoustics:
AMC1
AMCT
EAG
EJ
HFB
H-270
KSC
KSW
SC
SF
SJ
SKTLN
SW
DLR
FB
IH
IHJ
JAD
LA
LF
LK
LLC (LP Custom style)
LS (Strat style)
LSE
LSM
LSR
LT
SA (Strat style)
SG
SL