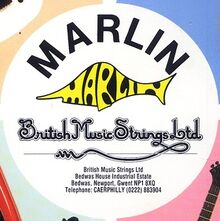 Marlin guitars were sold only in the U.K. by Welsh distributor British Music Strings Ltd. Originally, they were made in East Germany for a short period in 1985, before being contracted out to Samick in 1986. That early German model was called the "Slammer" and can be identified by a "Made in GDR" sticker on the back of the headstock. However, as soon as mid-1986, the Samick-made Sidewinder was already the best-selling guitar in the U.K., and held that status until 1988 before finally being overtaken by the Korean Squier (some of which were also made by Samick, coincidentally). In 1989, the brand was bought by Hohner, who switched production to Cort. The "State of the Art" series was likely produced by Cort as well.
Models
Community content is available under
CC-BY-SA
unless otherwise noted.