The LC was Samick's Les Paul Custom style model. The LCRG-402 was introduced in 1989 as a direct copy of the Gibson Les Paul, but they were likely pressured by Gibson to change it if they wished to continue producing Epiphones. Therefore, the headstock was changed to a refined version of Hondo's Deluxe headstock around April 1990 (the same time Epiphone switched from an "open book" headstock to their current "clipped ear" headstock). For a short time, it kept the same body shape, until May 1990 when it was redesigned with different proportions and a longer, sharper horn. In 1991, Samick changed their naming conventions, resulting in the new name, "LC-650". In May 1993, it was redesigned again, this time with a smaller, more rounded horn. For 1995, it became part of the Artist Series. In 1997, it returned to "correct" Les Paul proportions, but retained the rounded horn. It was produced until 2001 when it's likely that Gibson put pressure on them once again to make more original designs. However, there was no lawsuit, despite what some people will claim.
Related:
LCRG-402
Identical to Japanese market LS-CUS for 1989 only.
Body:
Solid Alder body with arched top
Maple veneer, front and back (Sunburst finishes)
Neck:
Set-in Nato neck w/ scarf joint
Slim profile
Medium-long tenon
Rosewood fretboard with acrylic block inlays
Open Book headstock (1989 - April 1990)
Deluxe headstock (1990)
Mother of Pearl Wave logo inlay
Mother of Pearl S-Diamond inlay (1989)
Mother of Pearl "Deluxe" script inlay (1990)
14o headstock pitch
22 frets
24.75" scale
Binding:
Triple-ply body (front and back) and headstock
Single-ply neck
Electronics:
Two ceramic humbuckers
3-way switch
2 Vol, 2 Tone
Hardware:
Gold hardware
16:1 ratio lubricated, die-cast tuning machines
Bell shaped truss rod cover
Amber Bell knobs
Tune-O-Matic bridge and stopbar tailpiece
Finishes:
Black (B)
Golden Sunburst (GS)
Tobacco Sunburst (TS)
Silverburst (SS)
Also branded as:
LCRG-403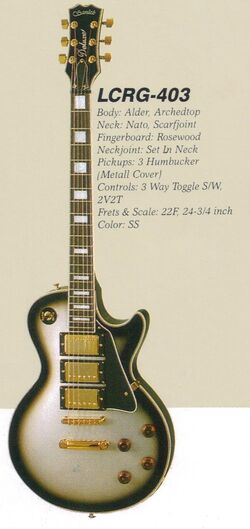 Three-pickup version of LCRG-402. Some examples feature Vantage logo.
Body:
Solid Alder body with arched top
Neck:
Set-in Nato neck w/ scarf joint
Slim profile
Medium-long tenon
Rosewood fretboard with acrylic block inlays
Mother of Pearl Wave logo or Vantage logo inlay
Mother of Pearl "Deluxe" script inlay
14o headstock pitch
22 frets
24.75" scale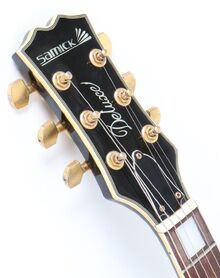 Binding:
Triple-ply body (front and back) and headstock
Single-ply neck
Electronics:
Three ceramic humbuckers
3-way switch
2 Vol, 2 Tone
Hardware:
Gold hardware
16:1 ratio lubricated, die-cast tuning machines
Bell shaped truss rod cover
Amber Bell knobs
Tune-O-Matic bridge and stopbar tailpiece
Finishes:
Black (B)
Silver Sunburst (SS)
LC-650 (1991-1992)
Body:
Solid Alder body with arched top
Maple veneer, front and back (Sunburst finishes)
Neck:
Set-in Nato neck w/ scarf joint
Slim profile
Medium-long tenon
Rosewood fretboard with acrylic block inlays
Mother of Pearl Wave logo inlay
Mother of Pearl S-Diamond inlay
14o headstock pitch
22 frets
24.75" scale
Binding:
Triple-ply body (front and back) and headstock
Single-ply neck
Electronics:
Two ceramic humbuckers
3-way switch
2 Vol, 2 Tone
Hardware:
Gold hardware
16:1 ratio lubricated, die-cast tuning machines
Bell shaped truss rod cover (1991)
Pointed bell shaped truss rod cover (1992)
Amber Bell knobs
Tune-O-Matic bridge and stopbar tailpiece
Finishes:
Black (B)
Cherry (CH)
Silver Sunburst (SS)
LC-650 (1993-1994)

Body:
Solid Alder body with arched top
Maple veneer, front and back (Sunburst finishes)
Neck:
Set-in Nato neck w/ scarf joint
Slim profile
Medium-long tenon
Rosewood fretboard with acrylic block inlays
Mother of Pearl Wave logo inlay
Mother of Pearl S-Diamond inlay
14o headstock pitch
22 frets
24.75" scale
Binding:
Triple-ply body (front and back) and headstock
Single-ply neck
Electronics:
Two ceramic humbuckers
3-way switch
2 Vol, 2 Tone
Hardware:
Gold hardware
16:1 ratio lubricated, die-cast tuning machines
Pointed bell shaped truss rod cover (1993)
Headstock matching truss rod cover (1994)
Black Speed knobs
Tune-O-Matic bridge and stopbar tailpiece
Finishes:
Black (BK)
Cherry Sunburst (CS)
Silver Sunburst (SS)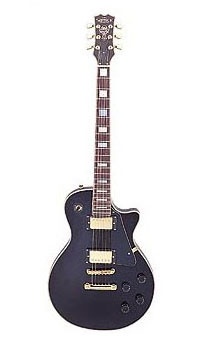 Body:
Solid Alder body with arched top
Maple veneer, front and back (Sunburst finishes)
Neck:
Set-in Nato neck w/ scarf joint
Slim profile
Medium-long tenon
Rosewood fretboard with acrylic block inlays
Ornate Mother of Pearl Artist logo inlay
14o headstock pitch
22 frets
24.75" scale
Binding:
Triple-ply body (front and back) and headstock
Single-ply neck
Electronics:
Two ceramic humbuckers
3-way switch
2 Vol, 2 Tone
Hardware:
Gold hardware
16:1 ratio lubricated, die-cast tuning machines
Headstock-matching truss rod cover
Black Speed knobs
Tune-O-Matic bridge and stopbar tailpiece
Finishes:
Black (BK)
Cherry Sunburst (CS)
Metallic Red (MR)

Body:
Solid Nato body with arched top
Maple veneer, front only (CS)
Neck:
Set-in Nato neck w/ scarf joint
Slim profile
Medium-long tenon
Rosewood fretboard with acrylic block inlays
Ornate Mother of Pearl Artist logo inlay
14o headstock pitch
22 frets
24.75" scale
Binding:
Triple-ply body (front and back) and headstock
Single-ply neck
Electronics:
Two ceramic humbuckers
3-way switch
Knurled switch washer (2000-2001)
2 Vol, 2 Tone
Hardware:
16:1 ratio lubricated, die-cast tuning machines
Headstock-matching truss rod cover
Black Speed knobs
Tune-O-Matic bridge and stopbar tailpiece
Finishes:
Black (BK)
Cherry (CH)
Cherry Sunburst (CS)
Metallic Gold (MG)