The Hondo brand was created in 1969 through a joint-venture between Samick and Fort Worth, Texas based IMC (International Music Corporation), which was created by Jerry Freed and Tommy Moore. It is often claimed that the name Hondo was taken from a John Wayne film of the same name, but it's also possible that the name came from the city of Hondo, Texas (neither theory has been proven, however). The new company introduced modern American and Japanese production methods to the Korean market, while taking advantage of the low-wage level in Korea to offer inexpensive, entry-level guitars.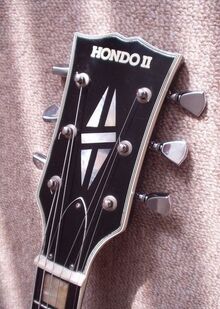 Note: there is a common misconception that all Hondos were made in Japan from 1973-1983. This is ENTIRELY FALSE. Only the very first HLP and Professional Series models were made in Japan.
Hondo initially produced a line of classical and folk guitars. In 1972, they began selling electric guitars, mostly copies of Teisco models, using Teisco hardware (as Samick built some cheaper Teisco models). Around 1974, they introduced copies of American models (as well as banjos, mandolins, violins and autoharps). By 1976, the company's electric guitars had gained a level of quality and the name was changed to "Hondo II" to reflect that (another common misconception is that this occurred in 1974). The company also made improvements to the finish quality on their products, introduced scalloped bracing on acoustics, and began using a higher quality brand of tuning machines. Hondo soon became one of the largest selling entry level brands, being sold in 70 countries worldwide.
[1]
 In 1976, over 22,000 of the Bi-Centennial banjos were sold.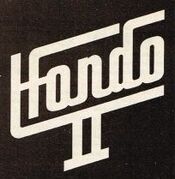 In mid-1977, the logo was changed to a new cursive style (the first version connected the "O" to the "N" on the bottom, making it look like "Hando II". This was corrected the next year). In 1978, a branch office was opened in Los Angeles, CA. and they struck a deal with American pickup maker DiMarzio to include
DiMarzio K-10s
as an option on all Hondo models (another common misconception is that
all
Hondos came with DiMarzios at this time. They were only
optional
on select models from 1978-1983. After that, Samick produced their own similar pickup called the
X-14
, offered with a DiMarzio style cover that is easily confused). In 1979, Samick had developed new automated production facilities that reduced the need for hand woodworking (allowing more consistency) and increased production capacity. In 1979, Hondo sold nearly 800,000 instruments worldwide.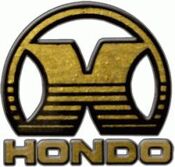 1980 was the beginning of a new era for Samick and Hondo, as they introduced the new Professional Series, made in Japan by Tokai and Matsumoku. Using what they'd learned from those manufacturers, they introduced the Deluxe Series in 1981, made in Korea by Samick. 1981 also marked the appearance of a new logo, dropping the "II" from the name in favor of a circled "H" with "Hondo" written underneath (More: Logo Styles). In 1982, the Deluxe Series lineup was expanded considerably. Also, the Deluxe Series Mark II was introduced, with high end features never before seen on Korean-made instruments. By the early 1980s, Hondo was shipping over 700,000 guitars a year.[2] During this time of rapid expansion, it was estimated that Hondo was offering 485 possible variations, due to the fact that each model was offered with several finish options, and many with pickup, bridge/tremolo and other options. Also around this time, Hondo was introducing many collaborative special models, including the Chiquita, Paul Dean II, Coyote, Lazer and The Flash. They also introduced some original models with experimental designs, like the H1, Alien, M-16, UFO and The Sting. In 1984, they created the Fame Series as a line of Fender copies with standard Grover tuners on all models, and in 1985 created the Fame Mastercaster Series which included standard Kahler Flyer tremolos and a sleek new headstock design.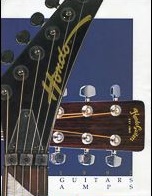 In 1985, IMC acquired major interest in the Charvel/Jackson Company, and began dedicating more time and interest in the higher end guitar market, in turn letting Hondo languish. In that same year, Samick began building Epiphones for Gibson, dedicating more of their resources to that more lucrative contract. That contract also explains why Gibson copies started disappearing from the lineup at this time; the contract could be jeopardy if Gibson employees were at the factory and saw copies on the assembly line. By 1987, the lineup had been pared down significantly and the last Hondos of this era were made in 1989. However, Jerry Freed started the Jerry Freed International Company in 1989, and acquired the rights to the Hondo trademark in 1991. Freed began distribution of a new line of Hondo guitars in 1992, and while some of these models were still made by Samick, they were made in their new Indonesian factory. Others were made by Cort. In 1993, the revamped company was relocated to Stuart, Florida; additional models added to the line were produced in China, India and Taiwan. The Hondo Guitar Company was purchased by the MBT International in 1995. Some time after this, they began using the old "Hondo II" script logo and "Sunrise" logo again. MBT also owns and distributes J.B. Player which, in 2005, replaced Hondo.