The Deluxe Series was introduced in 1981, essentially replacing the Standard Series as Hondo's main lineup. In fact, many Standard Series models carried over unchanged. However, new models marked a significant step forward in quality, thanks to techniques learned from working with Japanese manufacturers Tokai and Matsumoku. 1982-1983 saw a massive increase in the number of models offered. The series was phased out by 1985, with retained models moving to the Fame Series and Formula 1 Series.
All Deluxe Series models were made in Korea by Samick.
Models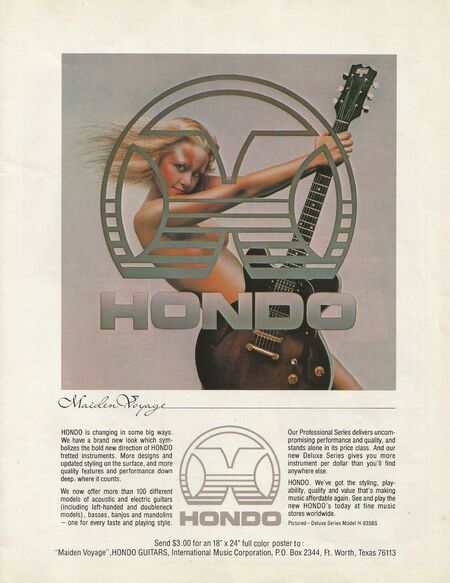 H-734 (SG style)
H-748 (LP style)
H-752 (Vantage style)
H-757 (Tele style)
H-758 (Strat style)
H-766 (V style)
H-767 (V style)
H-768 (V style)
H-775 (Star style)
H-777 (Star style)
H-779 (Explorer style)
H-780 (Explorer style)
H-785 (Bich style)
H-794 (L-5 style)
H-808
H-840 (Jazz bass style)
H-860 (V style bass)
H-880 (Explorer style bass)
Community content is available under
CC-BY-SA
unless otherwise noted.